US Congressman Jim McDermott with a Business Delation from Poland, heads of Trade and Investment Section of the Polish Embassy and Polish Information and Foreign Investment Agency, leadership of the Polish American Chamber of Commerce Pacific Northwest and members of Washington State Business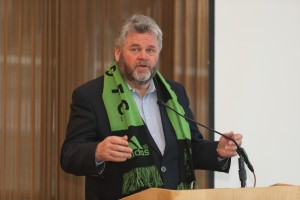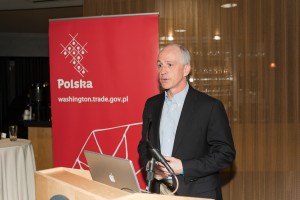 Former Seattle Mayor Greg Nickels                                 US Congressman Adam Smith
On Monday March 12, 2012, Polish American Chamber of Commerce Pacific Northwest with support from The Trade Development Alliance of Greater Seattle hosted a seminar at the World Trade Center Seattle, focused on Trade and Business Development Opportunities with Poland. In attendance were business delates from Poland, visiting Seattle for the Aerospace and Defense Supplier Summit,  heads of the Trade and Investment Section of the Polish Embassy in Washington DC and the Polish Information and Foreign Investment Agency in Warsaw,  members of the Washington State Department of Commerce, leadership of the Polish American Chamber of Commerce Pacific Northwest, Seattle-Gdynia Sister Cities Association, Lacey-Minsk Mazowiecki Sister Cities Association, Polish Home Association in addition to representatives of Washington State big and small business.
The delegates from Poland were greeted enthusiastically at the World Trade Center Seattle by Honorable US Congressman Jim McDermott, Honorable US Congressman Adam Smith and Seattle Mayor 2002-2009 Greg Nickels. All three gentlemen supported the Polish American community's efforts to lift the short-term visit visa requirements for Polish citizens. Both Congressman McDermott and Congressman Smith endorsed the visa waiver bill in the US House of Representatives and spoke of the importance of open travel to promote business development between Poland and the Pacific Northwest. Mayor Nickels spoke of the enormous potential that exists between the two trading partners and his excitement to participate in the Boeing 787-Dreamliner delivery later this year.
The program explored potential areas of investment and demonstrated why Poland is an attractive partner in strategic industries, such as IT, energy, biotech and aviation. Representatives from special economic zone created in eastern Poland introduced key industries emerging in their region, particularly those related to Aviation and High Tech industries. The Aviation Valley Cluster located in south-eastern Poland is famous for its aerospace industry and pilot training centers. Dense concentration of aerospace industry, scientific research centers, as well as educational and training facilities make this region one of the best places in Central Europe for the development and fulfillment of aerospace projects. Representatives from top companies in the region were available for business-to-business meetings and follow up after the event.
See program agenda and bios:
www.paccpnw.org/event/trade-and-business-opportunities-with-poland
Photos from the event:
www.facebook.com/#!/media/set/?set=a.327213230669922.78880.125698214154759&type=1
For more information please visit:
www.washington.trade.gov.pl/en/aktualnosci/article/a,24666,.html
Presentations from the event: 
1. Trade Development with Poland Pawel Pietrasienski, Head of the Trade & Investment Section Embassy of Poland in Washington DC
2. Business Investment Opportunities in Poland Bozena Czaja, Vice President Polish Information & Foreign Investment Agency, Warsaw and Monika Gasiorowska, Director Bureau for Eastern Poland Economic Promotion Program Implementation, Polish Information & Foreign Investment Agency
3. Introduction of Special Economic Zone Teresa Orczykowska, Manager, – Special Economic Zone Mielec
4. Overview of the Aviation Valley Marek Bujny, Vice President, Aviation Valley Association