Autor: Eva Orlowska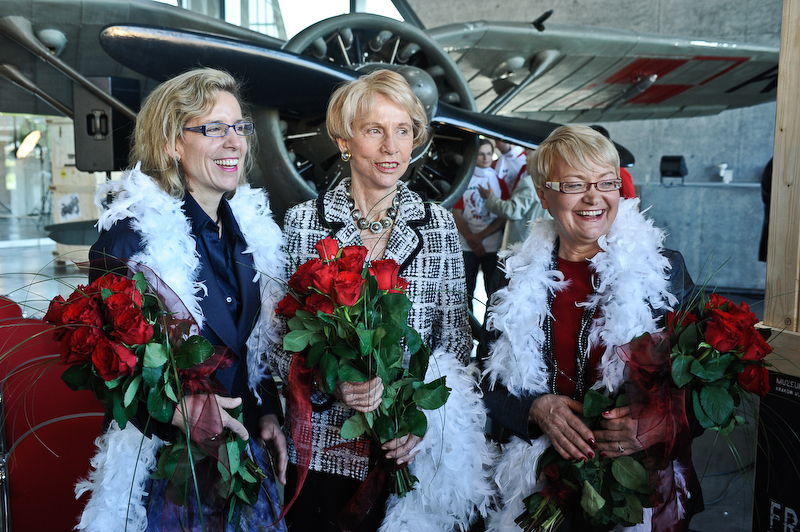 Boeing  VP Nicole Piasecki, Frank Piasecki's widow Vivian Weyerhaeuser Piasecki, Boeing CEE President Henryka Bochniarz
Full Circle: Boeing Vice President Nicole Piasecki opened an exhibition dedicated to Frank Piasecki and other famous Polish aviation designers from around the world in Cracow Poland. She was greeted in a 1930's style by Boeing CEE President Henryka Bochniarz, SAE Aero Design 2011 Competition winners and local dignitaries. Ms. Piasecki's speech at the Polish Aviation Museum on May 30th communicated pride in her heritage and US-Polish aviation relations.
Nicole Piasecki, at the helm of Business Development and Strategic Integration for Boeing Commercial Airplanes in Seattle, WA, is no stranger to building international partnerships. As President of Boeing Japan, she was responsible for strengthening Boeing's partnerships in Japan from 2006 to 2010. When asked to attend an exhibit in Cracow to honor Polish aviation designers including her father, famous Philadelphia helicopter pioneer, she jumped at the opportunity.
Poland is an important business partner for Boeing. In 1989 Polish Airline LOT became the first carrier in Eastern Europe to fly Boeing jets. In 1990,  Poland's Minister of Industry and Trade Henryka Bochniarz signed an agreement with Boeing to manufacture parts for 747 in Mielec.  Additional agreements followed. LOT is the first airline in Europe slated to receive Boeing's newest aircraft 787 Dreamliner in April 2012. Poland purchased total of eight 787s to the disappointment of Airbus and its Western European allies.
It was Boeing that helped transform LOT into a trans-Atlantic carrier with highly profitable routes to Chicago, New York and Newark. Today, LOT services over 120 destinations with new direct flights to Asian and Middle Eastern hubs. With longer range 787s, LOT will be able to add more direct connections to popular cities like Dubai, Tokyo, Beijing, Shanghai Bangkok, Singapore, Delhi and Washington DC.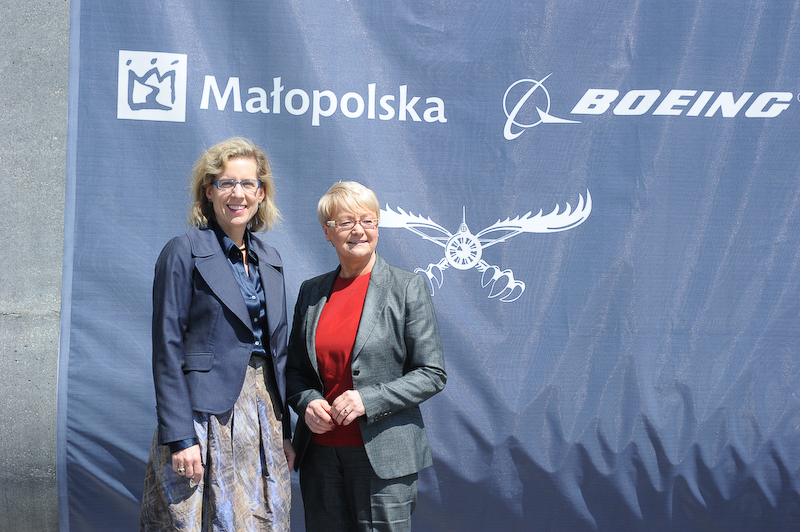 Transatlantic partnership: Boeing VP Nicole Piasecki and Boeing CEE President Henryka Bochniarz
In 2006, Boeing opened an office in Warsaw as part of its strategy to expand globally, naming Henryka Bochniarz as president of Boeing Central and Eastern Europe. Ms. Bochniarz, also president of the largest Polish Confederation of Private Employers Lewiatan, has an in-depth knowledge to develop and implement Boeing's growth strategy in the region including Poland, Bosnia, Bulgaria, Croatia, Czech Republic, Hungary, Kosovo, Montenegro, Romania, Serbia, Slovakia and Slovenia.
The Aviation Valley in southeastern Poland with over 100 years of aviation history is not just a low-cost global supply chain partner but also a rapidly developing cluster in aerospace research and innovation. Aviation Valley CEO Marek Darecki, now on the board of European Commission High Level Group on Aviation and Aeronautics Research foresees Polish aviation as a significant contributor to Europe's vision for aviation in the years to come.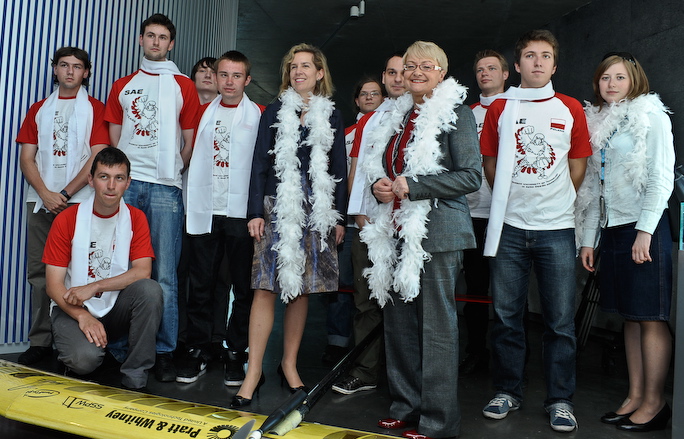 Warsaw University of Technology winners of Society of Automotive Engineers International  Aero Design 2011 Competition
Boeing invests, transfers technology and practices good Global Corporate Citizenship in Poland. Working with institutions like the Polish Aviation Museum, Association of Jewish Historical Institute, Junior Achievement Foundation, Our Earth Foundation, it promotes education, leadership and entrepreneurship among young people. Some notable projects include the Muzeobus (Museumbus), Society for Automotive Engineers Aero Design 2011 Competition and Poland Business Week (originally, Gdynia Business Week).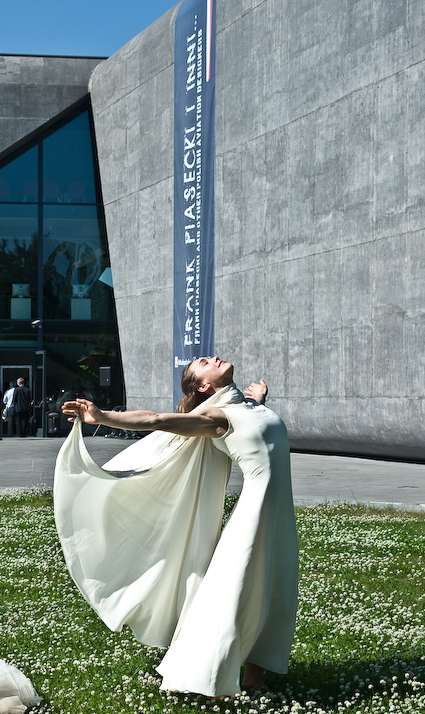 The exhibit in Krakow titled "Frank Piasecki and other aviation designers" is part of Boeing's effort to raise the awareness of Polish heritage in aviation design and manufacturing. In the interwar period, Polish aircrafts won high recognitions at the Paris Air Show. After WWII, many expert aviation engineers and technicians found themselves in Western Europe, United States, Canada and Australia transferring Polish aviation knowledge to their host countries. The exhibit is dedicated to those designers who contributed to the boom of aviation outside of Poland. Frank Piasecki, born in Philadelphia in 1919, came from that rich Polish tradition of innovation. Driven by immigrant parents to excellence, he built and flew his first helicopter PV2 at the age of 23. Then, went on to design breakthrough aircraft technologies such as the iconic Chinook, employing accomplished Polish émigrés, Wieslaw Stepniewski, Piotr Kubicki, Bogdan Trocki and Tadeusz Tarczynski among others. He was awarded the National Medal of Technology by US President Ronald Reagan and Medal of Merit by Polish President Lech Walesa. And as his parents, the pioneer innovator instilled in his seven children the passion to rally others to succeed.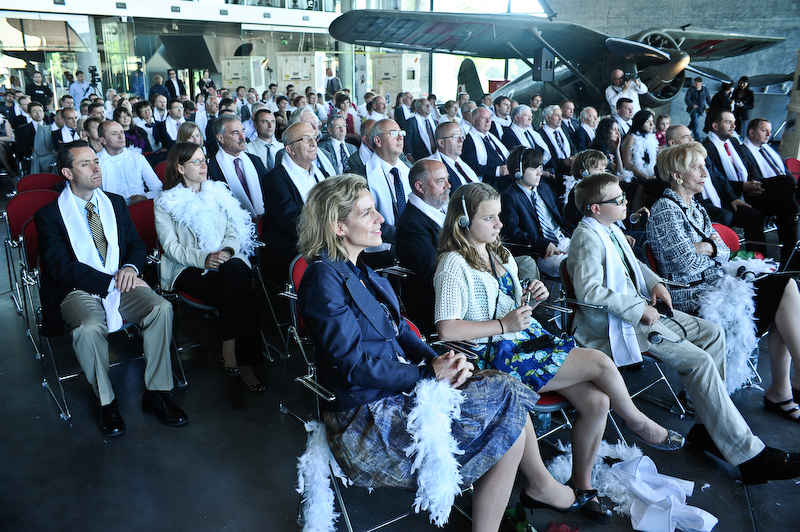 "Frank Piasecki and other aviation designers" exhibit opening ceremony,  Polish Aviation Museum, May 30, 2011
Nicole Piasecki's visit to her grandparent's native land completes a full circle. With mother, Vivian Weyerhaeuser Piasecki, son Nick, niece Sopia and nephews Fred and Otto on her side, it is in Poland where the Boeing VP made a case for an exciting future in the fields of science, technology, engineering and math (STEM). She posed with a team from Warsaw University of Technology who recently won the prestigious SAE Aero Design competition in Atlanta, USA. She accepted honorary membership in Association of Polish-American Engineers "Polonia Technica" from Cracow University of Technology Prof. Zbigniew Piasek. Wearing a feather boa reminiscent of the 1930's fashion, she fit right in against the backdrop of her father's "Flying Banana." That's A+ for business development and strategic integration.
Ms. Weyerhaeuser Piasecki added: " My husband would be very, very proud if he was here to enjoy this honor at this beautiful Polish Aviation Museum in Cracow. I can understand now why our life was always filled with Polish engineers and pilots. I want to express my deep thanks. Our whole Piasecki Family feels honored."
Prof. Zbigniew Piasek, Henryka Bochniarz, Nicole Piasecki, Krzysztof Radwan, Dr. Krzysztof Mroczkowski
"Frank Piasecki and other aviation designers" opening event and exhibit were made possible by the Piasecki Family, Walter Piesiecki,  Polish aviation history experts Andrzej Glass and Ryszard Witkowski, Polish Aviation Museum curator Dr. Krzysztof Mroczkowski and Director Krzysztof Radwan, Boeing Central and Eastern Europe Henryka Bochniarz,  Poland's Ministry of Culture and National Heritage, Witkacy Theater Zakopane, Malopolskie Voivodeship and  Association of Polish-American Engineers "Polonia Technica." Piasecki Aircraft Corp provided the artifacts and memorabilia of Frank N. Piasecki.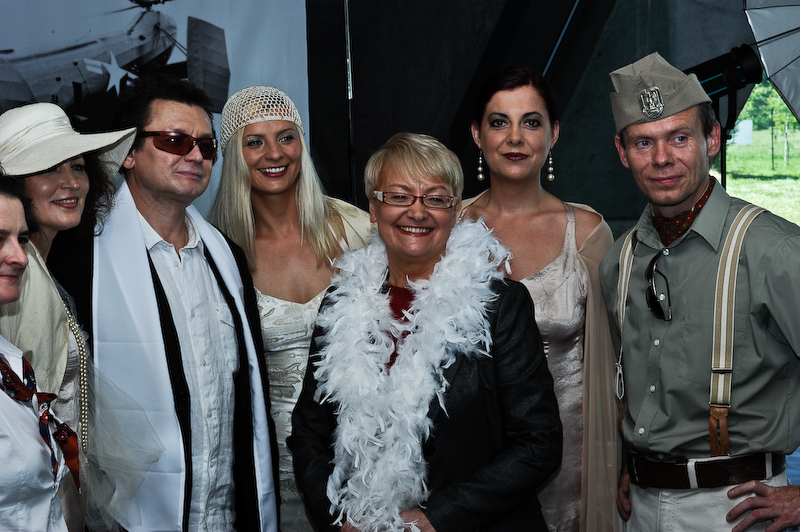 Stanislaw Ignacy Witkacy Theater from Zakopane in a 1930's era style with Henryka Bochniarz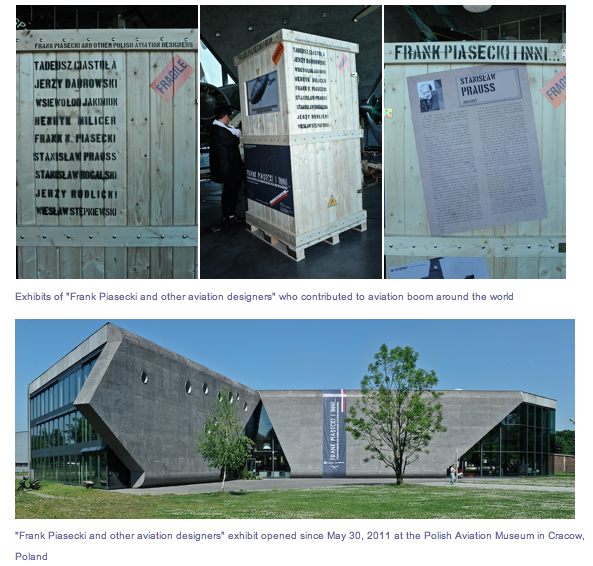 Photographs Copyright Andrzej Winiarz.